STORY HIGHLIGHTS
Christian Bale is in China to promote a new movie filmed there
Hollywood star wanted to visit activist Chen Guangcheng
Chen and his family are confined to their home
CNN's Steven Jiang was with Bale as guards thwarted the actor's efforts
DONGSHIGU VILLAGE, China (CNN) -- As Christian Bale approached an impromptu checkpoint leading to this tiny village in eastern China, four men blocking the narrow path started marching toward him in menacing unison.
"I am here to see Chen Guangcheng," the "Dark Knight" actor said and I translated, with correspondent Stan Grant and cameraman Brad Olson next to us.
"Go away!" the plainclothes guards barked, pushing us back.
Amid the scuffling and yelling, dozens more guards in olive-green, military-style overcoats -- and two gray minivans -- emerged from the other side of the checkpoint, all coming toward us.
"Why can I not visit this free man?" Bale asked repeatedly, only to receive punches from guards aiming for his small camera as they tried to drag him away from the rest of us.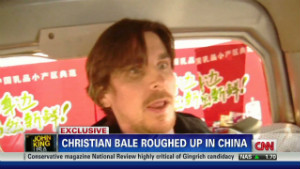 Christian Bale roughed up in China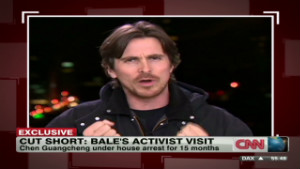 Christian Bale visits China as activist
As we retreated, I recognized the ringleader -- the same burly man who had hurled rocks at the CNN team 10 months earlier to force us out of the same location.
A precarious scene ensued Thursday as one of the gray minivans chased our car at high speed on bumpy country roads for some 40 minutes.
When the dust settled, we counted a broken car, a damaged camera -- and a Hollywood star disappointed at -- but not shocked by -- his failure to see a personal hero.
"What I really wanted to do was to meet the man, shake his hand and say what an inspiration he is," Bale said.
The man, 40-year-old Chen Guangcheng, has been confined to his home along with his wife, mother and daughter, and watched around the clock by dozens of guards since he was released from prison in September 2010. A local court had sentenced him to more than four years in prison for damaging property and disrupting traffic in a protest.
Blind China activist recovers amid call for his release

His supporters maintain authorities used trumped-up charges to silence Chen, a blind, self-taught lawyer who rose to fame in the late 1990s thanks to his legal advocacy for what he called victims of abusive practices by China's family-planning officials.
Bale first learned about Chen through news reports, including our coverage in February, when he was in China filming "The Flowers of War," a wartime drama set in 1930s Nanjing in which he plays a mortician trying to save a group of schoolgirls from the clutches invading Japanese soldiers.
Blind lawyer makes Chinese officials jittery
The injustice faced by the activist and his family stirred such strong emotions in Bale that, upon hearing his impending return to China to promote the movie, he decided to do something unusual to raise the international awareness of Chen and thereby to turn up the heat on the Chinese government.
"This doesn't come naturally to me, this is not what I actually enjoy -- it isn't about me," he explained during our eight-hour drive from Beijing to the eastern city of Linyi, where Chen's village is located. "But this was just a situation that said I can't look the other way."
Known to be a media-shy celebrity, Bale reached out to CNN and invited us to join him on his journey to visit Chen.
In the car, he lamented the American public's lack of knowledge on Chen's case, despite senior U.S. officials' increasingly vocal support for his freedom. Secretary of State Hillary Clinton and Gary Locke, the American ambassador to China, have both championed Chen's cause.
Although China's state media has largely ignored the story, Chen's plight has spread online and outraged a growing number of Chinese "netizens." Many have tried to visit Chen, and activists say nearly all would-be visitors have been turned back, often violently, by plainclothes police and local thugs.
"I'm not brave doing this," Bale emphasized. "The local people who are standing up to the authorities, who are visiting Chen and his family and getting beaten or detained, I want to support them."
As our car sped toward Beijing in the dark, Bale wondered aloud if he would never be allowed back -- a prospect he is prepared to accept -- even as "The Flowers of War" became China's official entry into next year's Academy Awards.
"Really, what else can I do to help Chen?" he kept asking as the clock struck midnight, with his latest movie -- partially funded by the state -- about to open nationwide in China.
updated 11:32 AM EST, Wed December 7, 2011

The condition of a prominent blind Chinese legal activist, whose nearly 15-months of house arrest, has slightly improved, a family friend said.
updated 11:55 PM EST, Sun November 20, 2011

Blinded by a fever at age two, Chen has been jailed, tortured, persecuted and held under house arrest for helping villagers fight for their rights.

Chen Guangcheng, a prominent rights activist, has been confined to his home since he was released from prison last September.

One of China's most prominent activists and his wife are under house arrest and have been beaten by authorities, two human rights groups said.
updated 5:34 AM EST, Fri December 16, 2011

As Christian Bale approached a checkpoint leading to a village in eastern China, four men blocking the narrow path started marching toward him.
updated 8:24 PM EST, Thu December 15, 2011

Actor Christian Bale attempts to visit a blind activist but is chased away by Chinese security. Stan Grant reports.
updated 8:25 PM EST, Thu December 15, 2011

Actor Christian Bale discusses his violent experience visiting China as an activist.
Blind lawyer makes Chinese officials jittery
http://www.cnn.com/2011/11/04/world/asia/china-florcruz-demonstrations/index.html?
Beijing (CNN) -- I first interviewed blind activist Chen Guangcheng for CNN in 2004. We drove five hours from Beijing to visit him in Dongshigu, a rural hamlet in Shandong province.
During our visit, he counseled a blind farmer who was being hounded by local officials to pay taxes he claimed he did not owe.
"Next time before you pay taxes, remember to ask for a receipt," Chen advised. "You should collect evidence, otherwise it's hard to investigate and prosecute."
The 39-year-old Chen is self-taught and is one of a small group of activists pushing the margins of political dissent in China. He told me he learned the legal ropes from listening to the radio and television and from books and newspapers read to him by his wife and father.
Blinded by a fever at age two, Chen has been jailed, tortured and is still being persecuted and held under house arrest for helping villagers fight for their legal rights.
In recent weeks, many Chinese micro-bloggers have been tweeting and calling for Chen's release. With the tweets, they post an iconic photo of him wearing dark glasses and some have even posted photos of themselves wearing dark sunglasses.
Chen has advocated non-violent means to resolve conflicts, which has garnered him widespread support in China and abroad -- including a recent Nobel Peace Prize nomination.
"He's against rioting," New York University professor Jerome Cohen noted. "He wants all their efforts to be channeled into legal institutions."
But the muckraking blind lawyer has made government officials uneasy.
Several months after my interview, Chen documented cases of allegedly forced abortions and sterilizations connected to China's one-child policy in his village. He helped victims to file a class action suit against local officials, prompting their anger and vengeance.
Soon after, he was locked up in prison for four years on charges of "disturbing public order." During that time, he was awarded the 2007 Ramon Magsaysay Award, given to emerging leaders in Asia.
Chen was released in September last year, but remains under house arrest. He, his wife Yuan Weijing and 6-year-old daughter Chen Kesi have been confined to their home and barred from receiving visitors.
He's against rioting. He wants all their efforts to be channeled into legal institutions.
Local officials have set up roadblocks to fend off activists, foreign diplomats and reporters who attempt to visit Chen. When our CNN crew tried to interview him in February, they were roughed up.
Difficult journey to visit a Chinese human rights lawyer

Chen's plight has prompted an outpouring of support among micro-bloggers in China -- some even soliciting donations and raising more than US$4,500 over the past four months.
It is not surprising that Chinese authorities are spooked by Chen given calls earlier this year in the blogosphere for a "Jasmine Revolution," and mass protests patterned after the revolution in the Middle East and Africa.
So far, such protests have had little traction here and President Hu Jintao has made it his mission to build a more harmonious society.
But China's economic rise has come at a cost and with the economy sagging, sections of the population are showing signs of restiveness.
Demonstrations are often fueled by local issues like corruption, land disputes, forced relocation, a growing gap between the rich and the poor, and environmental concerns.
In late October, more than 1,000 people took to the streets for two days and damaged several vehicles in the town of Zhili in Zhejiang province, protesting against tax increases. `
Several people were injured when the demonstrators -- mostly small business owners and factory workers -- clashed with the police. The protests subsided only after the authorities agreed to rescind the tax increase and the police kept its heavy security presence.
China-based market research firm Horizon cited various reasons why people feel their living standards have deteriorated, including rising prices, stagnant income, and a decline in confidence in the government's ability to create jobs and fight corruption.
More than 70% of the respondents blame poverty on the unjust social structure rather than lack of hard work.
"Negative public sentiments are constantly on the rise," says Horizon chairman Victor Yuan. "People tend to rush to often negative conclusions and magnify the government's inability to deal with emergency situation."
One of Beijing's worst nightmares is the outbreak of a peasant rebellion. Observers say harsh repression is turning obscure critics into rallying figures.
In the past two months, streams of Chen Guangcheng sympathizers have journeyed to his village in support.
"Before we reached the village, we were intercepted by about 100 people," Liu Li tells CNN. "I was surrounded by a dozen of them. They beat me up until I passed out."
Liu, 49, last week joined scores of people who responded to calls from micro-bloggers to support the blind lawyer. "Chen is just like any of us," said Liu. "He should be freed."