http://sojo.net/blogs/2012/07/26/suffer-little-children-crime-and-punishment-...
The disciplinary actions announced this
week by the NCAA against the Penn State
University football program were severe.
They included a $60 million fine (equivalent to their football proceeds of one year), a four-year ban on playing in post-season bowl games, a four-year reduction in the school's number of football scholarships from 25 to 15, vacating all of the wins of Penn State's football wins from 1998-2011 from official records (including vitiating the numbers that made their famous coach Joe Paterno the "winningest" big-school college football coach in history), giving all returning football players the right to transfer to another school, a five-year probationary period for the football program, and reserving the right to do further investigations and impose additional sanctions on individuals for their behavior. That will end Penn State's dominant national football program for the foreseeable future and is a much more serious punishment than simply banning the university from playing football for a year — aka a "death sentence"— might have been. I agree with the NCAA's disciplinary decisions and would have supported even harsher penalties against Penn State. I love sports, as do my two sons. We play sports, I coach both of my boys in baseball, we often watch sports together, and have long conversations about the sports and athletes that we love most. The NCAA's actions against Penn State send a clear signal and an important one. Jerry Sandusky, an assistant football coach who worked closely with the team's legendary coach Joe Paterno, sexually abused young boys for years. He raped children and his hideous crimes were covered up by Paterno and others, who knew, but did little if anything to stop him. Sandusky was convicted of 45 of 48 counts of sexual abuse over a 15-year period. Some of his crimes occurred in his office and other facilities at Penn State, including the football team's locker room.
Sandusky is awaiting sentencing. He will likely spend the rest of his life in jail. And all of the young boys he abused, using the cover of a program for at risk children that he ran, will have to live with the consequences of Sandusky's abuse for the rest of their lives. That most of the kids he abused were from low-income families adds even more injustice to it all. This is one of the clearest examples of a fundamental moral problem in our society — the protection of an institution has become more important than the lives of innocent children. That is exactly what happened at Penn State. The heinous crimes of a disgusting child abuser were institutionally covered up and allowed to go on, while people who knew or suspected looked the other way. And it was all done to protect the enormous influence and lucrative financial profits of a dominant football program, and the reputations of powerful men — including the legendary Paterno.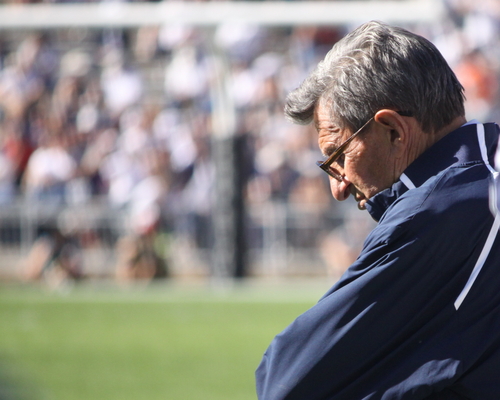 Quite honestly and painfully, this also is the problem with the horrible pedophilia scandals of the Catholic Church. An institution and the reputation of priests and bishops became more important than the safety and well-being of children. The institution sacrificed the innocence and well-being — physical, emotional, and spiritual — of untold numbers of children for its own benefit. Whether it is a powerful football program, a powerful church, or any powerful institution, as people of faith we always must defend the vulnerable and innocent from such abuses, and impose the strongest punishments possible when they occur. My boys saw the story about the NCAA penalties against Penn State on ESPN and wanted to talk about it. It shocked and hurt them that such things were allowed to go on under the guise of social service and the umbrella of a great football program. I was acutely aware that my 14- and 9-year-old sons were the same ages of some of the children that Sandusky continually abused. I knew how I, or any parent, would feel if these awful things had happened to their children. And yet the football legends at Penn State sacrificed the children to the institutional and personal self-interest of those with power. That is a terrible crime. Clearly, this is a story not just about football. It's about all institutions and the powerful people who run them not being held accountable for their behavior. I truly hope that a signal has indeed been sent and all of us now will be paying much closer attention — especially to the children who need and deserve our protection.
Jim Wallis is the author of Rediscovering Values: A Guide for Economic and Moral Recovery, and CEO of Sojourners. Follow Jim on Twitter @JimWallis.
Images: An area of the statue of former Penn State University football coach Joe Paterno stood sits empty after it was removed by workers outside Beaver Stadium on July 22, 2012 in State College, Pennsylvania. Penn State's president Rodney Erickson made the decision Sunday to remove the statue in the wake of the child sex scandal of former assistant football coach Jerry Sandusky. It's believed that Paterno, who died in January, had detailed knowledge of Jerry Sandusky sexually abusing children before and after Sandusky retired from coaching at Penn State. Photo by Patrick Smith/Getty Images. Second image: Penn State Coach Joe Paterno looks down during a loss to Illinois at Beaver Stadium October 9, 2010 in University Park, Penn. Photo by Richard Paul Kane/Shutterstock.