INTER ALIA,THE SALAFI EMPIRE

Tunisian Salafis attack pro-Palestine march
Hardline Salafis attacked a peaceful pro-Palestine protest on Friday evening in the Tunisian city of Gabes.
Hundreds of people were marching in support of the Palestinian demand for statehood on the occasion of International Quds Day but were attacked, witnesses said.
In a telephone interview with UPI a protester said that about 30 people affiliated with the hardline Salafi movement "attacked participants in the march with sticks and batons on the pretext that they are Shia, and not allowed to display their beliefs in the town of Abu Lubaba Ansari."
The witness, who requested anonymity, said that clashed between Salafis and the participants in the rally continued for more than an hour in the absence of security forces - resulting in a number of injuries.
The witness added that Salafis attacked participants with sticks and stones, and also burnt the Palestinian flag and hoisted black banners reading "there is no god but Allah."
They also chanted slogans, including: "There is no god but Allah, and Shias are the enemies of God," and others calling for the killing of Shias.
Tunisia has witnessed a number of aggressive moves moves by the Salafi movement in the past week.
On Thursday night the closing ceremony of the second session of the al-Aqsa festival in the city of Bizerte was interrupted by attacks in which five people were injured.
The festival was attended by Samir Kuntar, a Lebanese resistance figure formerly detained in Israel.
Militant Salafis stormed the concert hall and threatened the audience with swords and sticks on the pretext that Kuntar is Shia, despite him coming from a Druze background.
Extremist demonstrations in the name of Islam have become an increasing trend in Tunisia and security forces have been accused of turning a blind eye to such attacks.
(UPI, Al-Akhbar)   http://english.al-akhbar.com/content/tunisian-salafis-attack-pro-palestine-march

Arrigoni's Murder Trial In Gaza: Answers Not Just A Verdict
By Ramzy Baroud
30 August, 2012
Countercurrents.org
T
here was once a young man from a very small Italian town called Bulciago who wished to change the world. As soon as he finished his exams, he began his quest. He travelled near and far, and when he arrived in Jerusalem in 2002, he knew he had found his calling.
In 2008, that young man, Vittorio Arrigoni, sailed the high seas on a small boat. His purpose was to help end the siege imposed on a long-suffering population living in the tiny Gaza Strip. In a journal entry that was recently published in a much anticipated book, Freedom Sailors, Arrigoni wrote:
"History is us; History is not cowardly governments; with their loyalty to whoever has the strongest military; History is made by ordinary people.
Vittorio's history sees 'ordinary people' as actors who can change the world: courageous sailors who can challenge great military powers, doctors dashing through borders and saving lives, writers, teachers, speakers, musicians and people from all backgrounds.
Vittorio's middle name was Utopia, but his was hardly a utopian undertaking. It was very much real, and Vittorio was himself charting the way for others. Once in Gaza, he was determined to see his mission through to the very end, despite having many compelling reasons to leave. In September 2008, he was injured by the Israeli navy as he accompanied Palestinian fishermen in Gaza's territorial waters. A month later he was arrested – or more likely, kidnapped – by the Israeli military, and subsequently deported. A month later he returned, just in time to report on the so-called Operation Cast Lead. This was a one-sided war on Gaza between December 2008 and January 2009, following the failure of the siege to achieve Israel's political objectives. The 22-day war killed over 1,400 people and wounded thousands more.
Vittorio was there to witness it all. As many turned the war off and on through their remote controls, Vittorio was accompanying ambulances in middle of the night, comforting the wounded, weeping with the bereaved, calling on the world to help, and surviving the war himself.
He sent daily dispatches to Italian media, blogged on his website and wrote to friends the world over. His book, Restiamo Umani (Stay Human) offers a glimpse into the courageous man's experiences. In his first entry, he wrote as an Italian activist. By the end, he was a Palestinian man besieged in Gaza.
In the eyes of some, he was dangerous. A US-based far-right website called for his murder. It was not Vittorio the person that alarmed Israel, but the notion of what he and others like him symbolized – a challenge to the predictability of a conflict between a powerful oppressor and a powerless but defiant oppressed. As far as Israel was concerned, an idealist from a northern Italian town had no business being in Gaza, where people are indefinitely caged in an open air prison. Neither Vittorio nor any other international activist was supposed to disturb the inhumane experiment.
Yet, Vittorio's story had a most unexpected twist. On April, 2011, he was kidnapped and murdered. His murderers were Palestinians from Gaza, commanded by a mysterious Jordanian character whose origins and motives remain unclear. It was a horrifying, anti-climactic end to a story that was never intended to turn so wrong.
Continued: http://www.countercurrents.org/baroud300812.htm
A Salafi Tide Threatens Tunisia
Tunis - To the Tunisian populace, the emergence of a Salafi movement, with ideas outside the rhetoric of the most prevalent ideologies, seemed to be an anomaly. Head of the leading party al-Nahda, Rashid Ghannouchi, however, saw it as "the birth of a new culture."
Despite the sudden appearance, the phenomenon has hit Tunisia with force. The Interior Ministry states that thousands of citizens are "Salafis." They present a new faction of society, because their allegiances are "across borders" and not related to the political system in Tunisia.
They believe their mission will reform society, based on the deeds of al-salaf al-salih [the pious forefathers].
"They call for an understanding of the Quran and the Sunnah [teachings and deeds of the prophet] corresponding to the interpretation of the Islamic nation's salaf [forefathers], the prophet's companions, their followers, and their followers' followers, believing they represent the authentic Islamic way," according to Osoul wa Tarikh al-Firaq al-Islamiya (The Origins and History of Islamist Groups) by Islamist movements historian Mustafa Ibn Muhammad Ibn Mustafa.
The Salafi movement is nothing but religious. It believes that all answers lie with al-salaf al-salih [the pious forefathers].
They call for jihad to reform the nation and save it from the backwardness caused by the "disbelief" left behind by Western colonialism in Islamic societies.
They call for 'jihad' to reform the nation and save it from the backwardness caused by the "disbelief" left behind by Western colonialism in Islamic societies.Tunisia witnessed this violently on four occasions following the success of the 14 January 2011 revolution which toppled Zine el Abidine Ben Ali.
The first armed confrontation between a Salafi group and the Tunisian army took place in Al-Rouhiyah region, leading to the death of a colonel and two soldiers and of two armed militants. The search continues for a third that got away.
A high-ranking Tunisian security officer told Al-Akhbar that information gathered indicates that the situation is grave, especially on the border with Algeria. There is evidence of a similar threat on the border with Libya, after the discovery of a dangerous weapons leak on that side.
This was the second incident. A cell was caught smuggling arms from Libya. It was confronted by the anti-terrorism unit and the national army. Following an exchange of fire, 20 wanted Tunisians were arrested.
This new situation is transforming Tunis into a new base for jihadi action affiliated with the Salafi Call Society. One example is the Tunisian fighters who were arrested by the authorities in Syria. Allegedly, they confessed that they arrived in Syria by way of Libya, following the call for jihad against the Syrian president Bashar al-Assad in Tunisian mosques.
They said that going through Libya was easy. They also managed to find financing for their mission.
Those detained came from all regions of Tunisia, from Benzart to Ben Guerdane (in the far south). They met in Libya, from where they headed to Turkey then to Syria.
The families of the detainees expressed their disbelief that their sons had gone to Syria. The security official believes this is an indicator that "recruitment operations are happening in secret. Trips to Libya are under many pretexts, including job opportunities."
"The infiltration of cells has spread into Libya and the southern tip of Algeria," the official adds. He indicates that the smuggling of arms into Syria could be happening in great quantities as various hideouts have been discovered, the biggest of which was in Al-Kaf, close to the Algerian borders.
Another security official says that "there are serious worries about the eruption of the situation in the summer and the upcoming month of Ramadan."
"There is information about plans for major operations against tourism and commercial sites and public facilities inside Tunisia. The information actually indicates that weapons are being smuggled from Algeria to carry out these missions," he explained.
The official's statements followed a warning by the Internal Security Unions following Salafi attacks in the Jendouba region against security and public facilities. The warning maintained that the Salafis are preparing for attacks in Tunisia.
The security source revealed that drug dealers and jihadi arms smugglers are cooperating together. He believes that smuggling arms and drugs happens through the same roads, well known by smugglers from the mafia who look at post-revolutionary Tunisia as a new market.
The smuggling of arms into Syria could be happening in great quantities as various hideouts have been discovered.During a Tunisian television interview, the prime minister's consultant was asked about "government inaction" against the Salafi threat. "We are dealing with a complex phenomenon in a complex manner," he said.
"Do you want us to deal with them in a security manner and see explosions and the escalation of the security situation in the country?" he asked.
The question suggests that the government is seriously worried about a large-scale terrorist operation. The government is attempting to solve the issue through dialogue, trying to pull the Salafis into the peaceful political process. The Salafis, especially the jihadis see this as a Western heresy.
At least, this is what Al-Qaeda chief Ayman al-Zawahiri said in an audio message calling for a "revolt" against the government of al-Nahda, calling it an ally of the United States.
This article is an edited translation from the Arabic Edition. http://english.al-akhbar.com/content/salafi-tide-threatens-tunisia


All (War) Roads Lead to Mecca
By
Pepe Escobar
(about the author)
Become a Fan  (22 fans)   -- Page 1 of 2 page(s)
Asia Times
This was undoubtedly BIG. Everyone and his neighbor were there. The Emir of Qatar, President Morsi from Egypt, President Gul from Turkey, Palestinian Authority's Mahmud Abbas, Hamid Karzai The Afghan, Prime Minister Zardari from Pakistan, Marzouki the new Tunisian leader, King Abdullah from Jordan, Iranian President Mahmud Ahmadinejad himself. All 57 member-states of the Organization of Islamic Cooperation (OIC) - representing no fewer than 1.5 billion Muslims worldwide. Arab News couldn't resist
waxing poetically
. What about ...
"In Makkah, last night the Holy Kaaba and the Grand Mosque was bathed in bright lights. The giant Clock Tower glowed in green lights on a clear, moonless night. As the muezzin's heart-warming voice reverberated in the mountainous city at Isha, the world's leaders, sitting in the Al-Safa Palace next to the Grand Mosque, repeated Allah-o-Akbar after him."
Allah Akbar indeed -- and then straight to the business in which these "leaders" excel; squabbling among themselves -- and suspending Syria from the OIC. So much for the idea sponsored by "the Islamic world's respected leader, Custodian of the Two Holy Mosques King Abdullah" of how to "unify and strengthen the crisis-riven Muslim world." The real nitty-gritty -- off limits to everyone -- was what the Saudis, the Iranians and the Turks actually discussed behind those Mecca doors after the heart-warming-voiced muezzin went to bed. For show, the Mecca notables passed three resolutions. They suspended Syria; recognized Palestine as a sovereign state (once again, note that Palestine was treated as just a side issue); and defended the cause of the Rohingya Muslims in Myanmar (the military in Naypyidaw are not exactly quaking in their boots).
The Custodian's show
What the "Custodian of the Two Holy Mosques" seems to have perpetrated is a savvy, Washington-style PR coup. He was evidently advised to seat Ahmadinejad to his left and the Emir of Qatar to his right. The graphic message; this triumvirate -- two Sunni Wahhabi powers, one Khomeinist Shi'ite -- is deciding the future of the Middle East. We -- Wahhabis -- are not bent on destroying those infidel Shi'ites. Not so fast. My colleague Kaveh Afrasiabi has argued Tehran may have fallen into a trap; they were expecting a real effort of mediation and political dialogue instead of the meeting's priority -- to suspend and eventually expel their ally Syria (See
Saudis use summit to isolate Syria, Iran
, Asia Times Online, August 15, 2012). Behind all the syrupy shenanigans, the fact is the House of Saud and Tehran didn't -- and couldn't -- possibly agree on anything; this was more like a "let's keep talking" -- the Mecca version of the good ol' US-USSR red telephone. The "Custodian" called for "solidarity, tolerance and moderation"; hard to see any of this as the House of Saud -- and Qatar -- weaponize runaway gangs and an array of beheading-happy Salafi-jihadis in Syria. The OIC as a whole defended Syria's "unity, sovereignty, independence and territorial integrity," exactly as the House of Saud and Qatar are doing all they can to undermine all of the above. Here's the OIC as an extension of the Saudi-led Gulf Cooperation Council (other GCC members being Bahrain, Kuwait, Oman, Qatar and United Arab Emirates). Quite a few countries -- from Southeast Asia to Africa -- are very uncomfortable with the whole thing, but in the end deferred to the "Custodian." The "Custodian" also wants to set up a "center for dialogue" in Riyadh. The verdict is open whether this center will examine who's really responsible for what is now practically all-out war between Sunnis and Shi'ites all across the Ummah. Imagine a center like this coming to the conclusion that the protests in Bahrain were legitimate; as legitimate as the protests in the Eastern province of Saudi Arabia. And as legitimate as what happened last year in Cairo's Tahrir Square (everyone remembers the House of Saud's sheer horror at its ally Hosni Mubarak being defied by scores of young urbanites). The "Custodian" also said, "The Islamic nation is living in a state of sedition and disunity that led to bloodshed of its people in this holy month in many parts of our Islamic world." On sedition --
fitna
, in Arabic -- it's unthinkable the "Custodian" and his pampered House of Saud princes are not familiar with the Yinon plan[1] and countless others, whose divide-and-rule basis is exactly to incite a never-ending Sunni-Shi'ite war, with a cast of subdivisions including Muslims against Christians, Arabs against Persians, Turks against Persians, Arabs against Turks and, why not, Kurds against Turks. That's exactly what is happening as the major -- intended or unintended -- blowback of Syria's proxy war.
Why not have it both ways?
So the "Custodian" seems to have sold the notion that Iran and the GCC are talking -- even if practically at each other's throats. But the House of Saud agenda remains extremely tricky; it may not dream of a smashed Iran, but certainly a very weakened Iran, either by years of Western sanctions or by a potential Israeli attack. It's no secret the GCC badly wants Israel to attack Iran; it then could reap the benefits of inwardly delighting over a weakened regional Shi'ite power while publicly condemning Israel's unilateral aggression.
http://www.opednews.com/articles/All-War-Roads-Lead-to-Me-by-Pepe-Escobar-120817-147.html

 1  |  2


Armenians in Syria fear likely Muslim Brothers' rule
YEREVAN - Hürriyet Daily News
Syrian Armenians who fled to Armenia says they fear that the Muslim Brotherhood could seize power in Syria. 'If the Brotherhood takes over in Syria, all Christians will have to leave the country' says a member
Members of Syrian Armenian community who fled from violence in Syria gathered for a Sunday service in the garden of the Armenian Mother See's Holy Echmiadzin Cathedral, 20 kilometers from the Armenian capital of Yerevan, on Aug 19.
Vercihan Ziflioğlu
vercihan.ziflioglu@hurriyet.com.tr
Members of Syria's Armenian community who have fled to Armenia due to the ongoing violence in Syria fear the possibility that the Muslim Brotherhood may seize power there, if Bashar al-Assad's regime falls. "If the Muslim Brotherhood takes over in Syria, all Christians will have to leave the country," Narbey N., a Syrian Armenian who recently fled to Armenia, told the Hürriyet Daily News. He also said that rebels in Syria shouted slogans such as: "Alawites [members of the Muslim sect to which al-Assad belongs] to coffins, Armenians to Beirut."The Daily News spoke to a group of Syrian Armenians gathered for a Sunday service in the garden of the Armenian Mother See's Holy Echmiadzin Cathedral, 20 kilometers from the Armenian capital of Yerevan, on Aug. 19. They did not want to give their surnames to protect their safety.The migrants are anxious about the future of Syria, but say they have left behind their family members and property, and insist that they will return to the country despite the dangers awaiting them. Armenians regard Syria as their second homeland after Anatolia, and their greatest anxiety stems from the possibility of the al-Assad regime falling and the Muslim Brotherhood coming to power. "I hope the al-Assad regime does not fall, and that the country will not be taken over by the Muslim Brotherhood. Currently there are no attacks aimed at the Christian population, but their coming to power would be a catastrophe for Christians. In that case, all the Christian communities, including Armenians, would have to leave Syria. The U.S. and other Western states have already lost their Christian values and do not care about us, in the face of such political issues," Narbey N. said. He believes the Armenian community is experiencing a second catastrophe that could possibly equal the 1915 tragedy, when hundreds of thousands were massacred or forced to migrate by the Ottoman Empire.

'Alevites in Syria also under threat'
Continued:
http://www.hurriyetdailynews.com/armenians-in-syria-fear-likely-muslim-brothers-rule.aspx?pageID=238&nID=28876&NewsCatID=352
What happens when they start killing Christians?
By
Michael Collins
(about the author)
Become a Fan  (65 fans)   -- Page 1 of 2 page(s)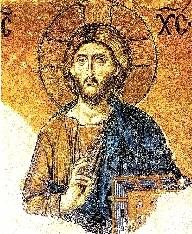 What really scandalizes us is that the Western world is encouraging this rise of sectarian violence just to topple the [al-Assad] regime. Mother Agnes Miriam, Syria
NATO and Saudi supported Free Syrian Army democracy warriors are attacking and killing Christians in Syria. Reports indicate that various Christian denominations are special targets for kidnapping, violence and intimidation. (Image) For example:
"Syrian rebel forces have trapped over 12,000 Greek Catholics in a village near the Lebanese border, causing shortages of food, medicine and other urgent supplies." CNA, August 25

The Greek Catholics in the village of Reblah may suffer the same fate as Christians in Qusair who were forced to seek refuge in Lebanon recently after their village lost supplies for days thanks to the Free Syrian Army (FSA). The residents were told to leave or face annihilation. They chose to leave.
Mother Agnes Miriam of the Melkite Catholic monastery near Homs provided important first hand reporting on the fate of Syria's 10% Christian population (July at 3:30 and August 2012). She noted that FSA fighters destroyed six Christian churches in the city of Homs. Due to this and other attacks, up to 90% of the Christian population were forced to flee for their lives without their possessions.
Regarding the FSA, Mother Agnes asked, "Why choose Christian zones as a target?"
United States and NATO Support for those Attacking Christians
On December 11, 2011, Pepe Escobar reported that 600 troops and weapons were shipped from Libya to help topple the Syrian government. This was just part of the NATO-Saudi-Qatari sponsored flow of foreign fighters into Syria. This was well before Hillary Clinton's February warning that arming FSA rebels would risk arming terrorist elements among the rebels.
Regrettably, Clinton's statement was dripping with the cynicism of realpolitic. She and the president knew that the core commanders of the NATO supported Libyan rebels sent to Syria consisted of the Libyan Islamic Fighting Group (LIGF). LIGF was a declared ally of al Qaeda well before the Arab Spring movement started in 2011 (Al Qa'ida's Foreign Fighters in Iraq, U.S. Military Academy). She also knew that Saudis and Qatar were sponsoring Wahhabi fighters, the most extreme of the anti-Christian Muslim religious zealots.
Libyans and other foreign Islamic extremists flocking to Syria are welcomed at a special NATO-Saudi-Qatari "nerve center" in Adana, Turkey (near Aleppo, Syria). Just a few miles from embattled Aleppo, Syria, the center directs "vital military and communications aid to Syria's rebels" as they kill and maim to advance their cause.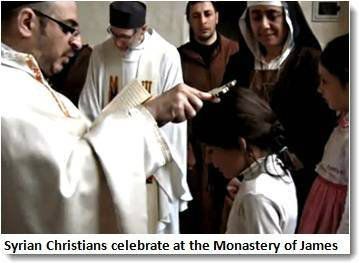 Ironically, FSA tactics mirror those used to condemn Saddam Hussein: the use of human shields in military operations. The rebels moved into Syria's three largest cities, attacked local authorities (with very limited support from residents), and incurred the inevitable military response of the ruling government. The rebels can't win a battle in the open field. By using the urban population as a shield, the FSA avoids the risks of an open battle with the regime. (Image: Monastery of St. James)
Blessed are the peacemakers?
Political leaders in the United States embrace Christianity as an article of political faith. Few prominent leaders are without a specific religion and an endorsement by their local pastor, priest, etc. They display their faith in public and talk about how it rules their life. Yet:
George Bush, the self-proclaimed Christian president, showed little regard for the fate of Iraqi Christians after the illegal invasion and occupation;
Barak Obama failed to take into account the suffering of Syrian Christians when he sent Hillary Clinton all over the world to gain assistance for the Syrian rebels; and
Under both presidents, Congress failed to do anything more than hold a brief hearing or two where the issue was raised.
Being a Christian in the Middle East carries special challenges. You are an identified minority. You are subject to special laws that limit your rights. Worse, during times of conflict or even times of peace, your community may be subject to intense discrimination and violence. It is not a comfortable path. It is a commitment based on deep faith and loyalty to the teachings of Jesus.
Politicians claim to follow Jesus but rarely walk the path. They must be called to account. Either act on your faith or stop lying. Stop using your religion to get elected and forget everything about it once in office. These politicians should read Jesus' teachings on peace, expand the principles to all people, and shun intimidation and violence as the first tool of foreign policy.

 1  |  2
www.themoneyparty.org   http://www.opednews.com/articles/What-happens-when-they-sta-by-Michael-Collins-120827-751.html

Syrian Christians in 2-week blockade by rebel fighters, residents desperate
Published: 25 August, 2012, 17:01
REUTERS / Khaled Al Hariri
TAGS: Conflict, Crime, Religion, Human rights, Opposition, War, Syria
An estimated 12,000 people have spent two weeks blockaded in the Christian town of Rableh, Syria, near Homs in the south. Experiencing a shortage of food and medical supplies, residents could not leave as rebel snipers were shooting at them.
­The town, close to the border with Lebanon, was liberated by Syrian government forces on Friday, according to Beirut-based Al-Mayadeen satellite channel. These reports are yet to be verified. Sixty militants were reportedly eliminated.

For about two weeks Syrian rebels maintained blockade of the mostly-Christian town,