Much like the lowlife CEO of GoDaddy, Juan Carlos also likes to pay big money to kill elephants in Africa. I am admittedly not a hunter but generally have no issue with people hunting what they eat. Killing one of the "Big Five" in Africa these days is mostly the domain of the ultra rich who spend tens of thousands of dollars to kill.I traveled through Southern Africa and visited dozens of game parks throughout the region. Along the way I bumped into a number of these hunters and heard about the industry from locals. It's sickening. Perhaps the most disgusting story was how they used old lions that were sold off from zoos because they were in bad shape and easier to kill. If the hunter was a bad shot, the guides would drug the animals so they were even easier to kill.We really don't know how good of a shot Juan Carlos may be, but what is certain is that this type of hunting is known for his type taking advantage of local communities who are need of money. When you have kings money, it's easy to throw around and participate in the seediest of seedy industries. Even worse, why is the king throwing around such cash on such a stupid event during this economic crisis in Spain? It's not macho, it's cowardly and abusive.
http://www.guardian.co.uk/world/2012/apr/15/spain-king-juan-carlos-hunting
Juan Carlos's expensive trip to Botswana – from which he was flown home injured – arouses anger in recession-hit country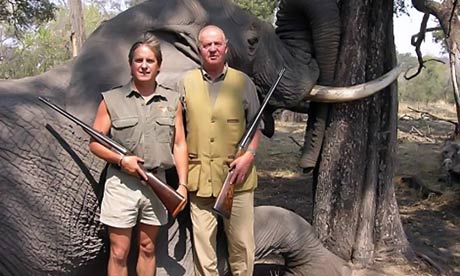 While ordinary Spaniards cope with harsh austerity, recession and soaring unemployment, the country's royal family has been enjoying expensive hunting trips, one of which resulted in King Juan Carlos ending up in hospital.
The 74-year-old monarch's fall in a park in Botswana provided an excuse for Spanish newspapers, who normally treat their royal family with kid gloves, to plaster their pages with photos of the king standing proudly in front of a dead elephant.
The photograph came from the website of Botswana-based Rann Safaris, which had been taken down by Sunday. The pictures, taken before the latest hunting trip, also showed the king with two dead water buffaloes.
Shoots with Rann Safaris cost upwards of $8,700 (£5,500) a week, with an elephant costing a further $15,000 to kill. A day out with professional hunter Jeff Rann, pictured with the king, costs a further $2,000.
The king's accident, after which he was flown back to Madrid for a hip operation, came days after his grandson, 13-year-old Froilán Marichalar, shot himself in the foot while hunting in Spain. He also had to be hospitalised and doctors removed the contents of a 36-calibre shotgun cartridge from his foot. Newspapers reported that it was illegal for a 13-year-old to handle that type of gun.
The king's hunting trip, which officials described as private, has caused a storm of angry comment from animal lovers and those wanting to know how much it had cost.
A promotional video on YouTube shows Rann shooting elephants – which can be killed with licences bought at auction from the Botswana government – in the Okavango delta.
"You have to manage the world's animal populations, to their betterment," says Rann, who did not answer queries from the Guardian. "We are trying to improve their habitat."
King Juan Carlos has been involved in hunting scandals before. Six years ago, officials dismissed as ridiculous allegations that he had shot a drunken Russian bear that had been plied with honey and vodka. The royal family has a troubled history with guns. The king shot and killed his brother in an accident when he was a teenager.